By: Mr. Wilson
on
March 28, 2013
It wasn't long ago that food trucks first started making waves in Lincoln. You probably know one of the first: Heoya [Facebook], an unassuming white van with a perky pink pig painted on the side. Soon Heoya established a brick and mortar presence inside the U-Stop at 33rd and Superior. Lincolnites continued to line up. The folks behind Heoya weren't done.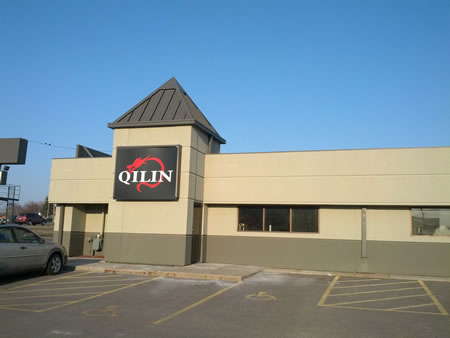 Introducing Qilin (pronounced "chillin'"), a new Asian fusion restaurant that takes what the Heoya folks have learned about the food business and applies it to a more traditional dining atmosphere. The Missus and I recently checked it out to see how they've done. Overall it's a mixed bag, but read on to find out what that means.
Let's start with some bad news. Qilin is located on the south side of O Street just west of 84th. Longtime Lincolnites will recognize the building -- it has held a variety of sports bars and Chinese buffets and who knows what else over the years. That doesn't necessarily mean the same will happen to Qilin, of course, but some locations around town just carry more baggage than others. This is one of them. It's also a huge space, especially for a brand new restaurant. I hope they got a great deal on rent. On the plus side, there's quite a bit of new activity going on just across the street. That may mean there's some good momentum in the area, and hopefully it carries over to Qilin. The exterior of the building has been freshly painted and there's a nice sign mounted on the building. Unfortunately the tall sign along O Street is still blank, making the restaurant easy to miss. I hope they're working on that. It would also be nice if they worked on their entrance. One of the two doors is broken and the area around the entryway outside could use some cleaning up. It's not trashy or anything, but things like broken concrete and door stickers left over from previous tenants don't give the greatest first impression. Yes, I'm being picky.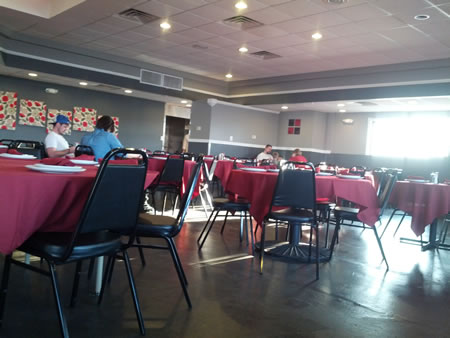 When we walked in we were greeted immediately upon entering and quickly seated. If there is a wait, there is an ample waiting area. I love the color scheme inside. The color palette features grays, white and black, with red accents. I am not crazy about the table layout, however. The dining area is wide open and almost cafeteria-like. That immediately knocks the atmosphere down a couple pegs. They would do well to invest in some booths and partitions to help divide the space and provide privacy for those who want it. So there you go. The location isn't the best and the atmosphere is mediocre. Things get better from here. Much, much better. Our server, Dawn, was excellent. She was friendly, attentive, and knowledgeable about the menu. In fact, it was on her recommendation that I selected both our appetizer and my main course. The other servers appeared to be doing comparably well, though of course that's difficult to judge with much precision. There were two minor hiccups. The first is that somehow we acquired a tremendous number of dishes over the course of our meal. That was largely due to the nature of the items we ordered, but they should be cleaned up as much as possible as the meal progresses. Second, both our entree and that of at least one other table arrived too quickly. Kudos to the kitchen for their efficiency, but the food's arrival should be better paced so that it doesn't overrun the prior course. Qilin's menu [Facebook] is diverse and exciting and unlike any other menu in Lincoln. It includes interpretations of Americanized Chinese classics like beef with broccoli ($10.45) and kung pao chicken ($9.45) alongside more unique dishes, including black bean clams ($10.95), seafood ceviche ($10.95), and Chinese water spinach ($7.95). Whether you want to play it "safe" or experiment a bit, you'll find something for you. You won't, however, find a children's menu. That may be problematic. I'd like to see them offer smaller, simplified versions of a couple dishes (pad thai, for example) for the kiddos.
I have craved chicken wings for weeks now. When Dawn recommended the wings ($6.95) as an appetizer I was quick to say yes. The six wings were nicely cooked and coated with a pleasant, relatively subtle Asian flavor. Dawn warned me in advance that the wings were a "dry" style; they were anything but. What she meant, of course, was that they don't come dripping in sauce, and that's quite true. The lack of tastebud-assaulting flavor and goopy sauce was a welcome respite from the norm.
The Missus ordered spring rolls ($3.95) and a cup of seaweed egg drop soup ($1.95). The spring rolls were very similar to those offered by Heoya; in fact, they may be identical. They include rice, pork, shrimp, and lettuce wrapped in rice paper and served with a delicious peanut sauce. Do note, as you can see in the photo above, that these spring rolls are not the tiny, fried creations you may have had elsewhere. If that's what you're expecting you're in for quite a shock. They are fresh, filling, and definitely not fried.
Meanwhile the soup is a spin on the standard eggdrop soup you find at most Chinese restaurants. This soup is on the lighter side and it includes seaweed -- something you won't find much of in Lincoln, Nebraska. Don't let that scare you off, though. It's delicious.
I went with a dish recommended by Dawn. She described the caramelized pork and eggs ($9.95) as a comfort food, comparable in role to meatloaf in Midwestern culture. Once it arrived I understood what she meant. The meal arrives very hot in a clay pot. Inside is fatty pork, hard boiled eggs, and an absolutely fantastic savory broth. I should be clear here: when the menu says "fatty pork", it means it. Most of the pieces of pork were as easy to cut as warm butter. It's an excellent cold weather dish, high in fat and protein. The Atkins and paleo crowds will no doubt love it for that reason. I love it for the simple reason that it was really darn tasty.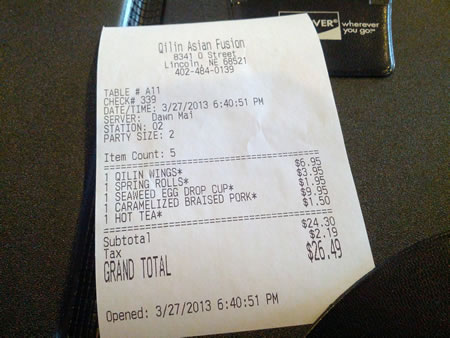 At the end of the night our bill came out to just $26.49. That's perfectly reasonable for the quality of food and experience we received. Next comes a question that I don't quite have an answer to: Where does Qilin fit in Lincoln's dining scene? At this point I'm not sure. The building and layout are flawed as I've already pointed out, almost on par with a sports bar (but without the televisions). Meanwhile the color scheme, table cloths, and table settings imply a much higher aim. And the food ... the food is absolutely fantastic. It's almost like Qilin wants to compete with the Blue Orchids and The Ovens of Lincoln but it's not quite sure how to get there. It's stuck in limbo. I'm not sure what I think about that. I'm also not sure that I care. For me the two most important components of a restaurant are the food and the service. I can usually forgive the rest. Heck, three of my favorite Mexican (-ish) restaurants have huge flaws: Oso is too cold in the winter; El Chaparro is an ugly dive; and Cristina's (in Crete) is stuck inside a former Sonic. Qilin is off to a great start with its service, and I'm running out of superlatives to describe my opinion of the food. I'll be back. If Qilin can get a stream of customers coming in the doors, they'll all come back, too.