By: Mr. Wilson
on
September 19, 2013
For a while, 70th and O was turning into a bit of a ghost town. Lonestar closed; the "coming soon" CVS still hadn't shown up; and the vacant former Hy-Vee became more and more of an eyesore every day. Fortunately, things have changed at the intersection. The Hy-Vee building is undergoing renovations that will soon make it a Best Buy. CVS is under construction. And Aces Haus of Cuisine [Facebook] just opened in the former Lonestar building. Aces specializes in American and German food, with an additional emphasis on vegetarian fare. It is managed by Eric Underwood, formerly of Hidden Valley and Skeeter Barnes.
(I apologize for the crumminess of these photos. I apparently had some settings screwed up on my camera.) The Missus and I dined at Aces on a whim last night -- we had originally planned to eat at Grandmother's, but when I saw on Twitter that Aces had just opened, I drove the extra mile up 70th Street. Yesterday was the restaurant's grand opening so one certainly shouldn't draw too many conclusions, good or bad, about the restaurant. Nevertheless, here are some Day 1 impressions. You be the judge of what it all means.
The interior is nice and simple. I don't remember what Lonestar looked like on the inside, but I heard another patron comment that the restaurant felt "much more open" than before. Indeed it is open, but not so wide open as to feel like a cafeteria. On the contrary, a nice mix of booths, tables, and the bar area help divide the space and offer plenty of opportunities for privacy without any table feeling isolated. Decorations are minimal and simple. The furnishings are simple but of good quality. Noise levels are very tolerable; neither neighboring conversations nor the background music were a distraction. The only thing I didn't care for was some of the televisions. The small TVs over the bar were fine. The TVs in the dining area, however, seemed unnecessary and distracting. The Food Network show directly above my wife's head added nothing to the mood. In fact, one entire segment of the show was dedicated to showing how disgusting a restaurant's kitchen can be. I'll take "Things You Don't Want To See Right Before Eating In a Restaurant" for $500, Alex.
Upon being seated, diners are presented with some pretzel bread and butter. The piece we received was fairly small, but that's ok. Some restaurants serve ridiculous portions of bread (or chips), most of which goes to waste. I quite enjoyed the bread, both with and without the butter. It had a pleasant, chewy texture and just the right amount of salt. Service was good overall. The people who interacted with us were friendly and professional, if a touch unpolished around the edges. Drinks were brought promptly. Our waitress gave us plenty of time to look over the (expansive!) menu, checking in at the right time to ask if we were ready to order or if we had any questions. Drink refills could have come a hair faster, but I give credit to the staff because somebody other than our waitress noticed my wife's dwindling Diet Coke and took care of the refill for her. My biggest complaint about the service is that the staff apparently have virtually zero experience with the food. Our waitress had only sampled two items off the menu, while another waitress nearby had sampled five. That, to me, is inexcusable. How are the staff supposed to speak intelligently about the food if they haven't even tried it? There's no way they can offer meaningful suggestions. That's a major failure by the management and the training process. It's an easy fix, though. I hope they take care of it pronto. Speaking of the food, there's a lot of it to choose from. There doesn't appear to be a menu available online just yet, which is too bad. Just know that if you go to Aces, you'll need to plan to take some time to read through the options. There's pasta and burgers and steak and seafood and sandwiches and salads and German food and a vegetarian section. There's even a chicken and apple [sic] enchilada. Choices aren't a problem. I get nervous when I see new restaurants throw a ton of stuff at diners to see what sticks. Remember Bob's Gridiron Grill? They tried that approach. They aren't open any more. I'm just saying. The number of choices is even more difficult for diners because so many of the options sound so darn good. Aside from the unnecessarily sexist description of the paulie melt (it's too manly to be a mere patty melt; get it?), I could have talked myself into most of the items on the menu. That's great and all, but it presents a paradox of choice. The present menus are simple stapled sheets of paper, presumably because the real menus aren't ready just yet. I suggest Aces take the opportunity to trim things down a bit. They can always bring items back later.
Eventually we made our choices. The Missus went with the "veg-eat-able" burger ($8.99), a handmade vegetarian patty that tastes better than its name implies. The Missus quite enjoyed the flavor and texture. She compared it favorably to the veggie patties at Abe's Burgers & Freedom, and LeadBelly. She commented that it had a "meaty" taste and that it seemed to be lentil based. (I sampled a bite. The flavor was ok, but the burger was too dry for my preference.) The Missus was disappointed that the burger arrived topped with a boring slice of American rather than the swiss cheese promised by the menu. The bun, on the other hand, exceeded expectations. Sure it was too tall for this particular burger, but it was a very high-quality bun. The Missus chose broccoli for her one side dish. It was prepared well, but there were a lot of stem pieces. In the end it wasn't a perfect meal, but she was pleased enough with it to take the leftovers home.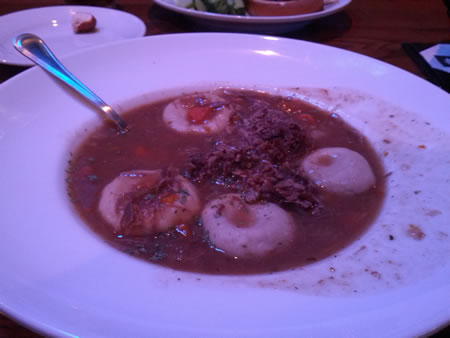 I opted to select an item from the German portion of the menu. I went with the sauerbraten ($10.99), both because the description sounded good and because I had never had it before. The dish featured pot roast along with a few carrots and potatoes and topped with a brown gravy. Four dumplings accompanied the meal. The gravy was delicious. The pot roast was, well, pot roast, not exactly melt-in-your-mouth tender but certainly not chewy either. The dumplings were a nice addition to the dish. The Missus wondered if the meal was enough to fill me. It was. The serving size was perfectly appropriate, not eat-until-you-hate-yourself huge. Those of you who prefer the latter, take note. Speaking of eating until you hate yourself, there's a decent selection of desserts to choose from. We didn't sample any, but the lady behind me ordered the German chocolate cake. It was big enough to share with a small army. Needless to say, she took most of it home in a box. There you have it. Aces Haus of Cuisine has some kinks to work out, but which brand new restaurant doesn't? I suspect that they'll find quite a few regulars in this town. My biggest concern is the size of their menu. It's really, really difficult to be good at so many things. I wish they would narrow their focus and specialize a bit more, especially in their early days. Many of the dishes they trim could easily become specials (i.e. the entire pasta section could become "Noodle Night"). Lincoln's restaurant scene is going crazy right now and that can present some extremely difficult challenges to newcomers. Aces has a lot going for it. Notably, its location is insulated from the insanity going on Downtown. I wish them luck.