World Cup Heartbreak?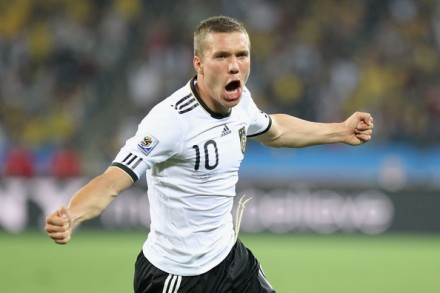 What a strange and exciting first week World Cup 2010 has been. Few people realistically expected Team USA to do well this year. But contrary to popular predictions, England's performance has been remarkably poor, FAR worse than ours. You have to be sorry for veteran English footballers like Steven Gerrard and Frank Lampard who are excellent players but are cursed with playing for a national team that always seems to do so badly when it counts. And let's set the record straight about Wayne Rooney: what a dismal disappointment he has been for England. After our tie with Slovenia today, one could only have prayed for an Algerian win over England. Although that didn't happen, the next best thing did with an Algeria/England 0-0 draw. What a disaster England has been so far, as I predicted. This means that USA is now ranked 2nd in group after Slovenia based on goals. It's very likely we could get out of group into the knock-out stage but we have to beat Algeria next, or England has to lose against Slovenia if we draw with the Algerians. But make no mistake about it: we could lose against Algeria easily.
There have been some amazing upsets this week, including Spain's loss and this morning's upset in the Germany/Serbia game. Personally, I have been supporting Germany, France, and USA. This week's play has thus been emotionally difficult for me because all three of these teams have fared significant challenges. After an awesome performance against Australia by Germany, I was stoked this morning to watch Germany's insane scoring robots Lukas Podalski and Miroslav Klose. I am a big fan of both these footballers, especially Podalski. What a boot today against Serbia and a card-crazy referee. Although Mr. Wilson concurred that the second yellow against Klose was clearly a trip, one has to ask to what extent the game becomes dominated not by the players but by the referee after 8 yellow cards are drawn.
Germany's group is wide open and tomorrow Ghana plays against Australia. This will be an interesting game to catch seeing as how we'll end up playing SOMEONE in group D if we get out of group. Every game counts, and in that sense this tournament has been awesome so far. I'm just disappointed that the teams I'm supporting have had such difficulties this first week.
In anycase, if anyone is looking for some excellent World Cup-related podcasts, check out the Worldview interview with Simon Kuper, author of Soccernomics: Why England Loses, Why Germany and Brazil Win, and Why the U.S., Japan, Australia, Turkey—and Even Iraq—Are Destined to Become the Kings of the World's Most Popular Sport. This was a really interesting interview breaking down the relationship between national economic conditions, fan and athletic culture, and performance in football. Really good stuff.