The Big Mango
Although I enjoy the pleasure of winters in Nebraska as much as the next person, I decided to take some time off and have been doing some traveling abroad, to visit places both familiar and new. I'm currently doing some traveling in good old Bangkok, where I lived for a few years in a past life. Its about 85 degrees here, and despite this crazy city's notorious traffic situation, its great to be back.
One could write a thesis on how Bangkok is a city planner's nightmare. I won't go into it. Rapid globalization and internal migration have made this city one, big, sprawling, sweaty mess. Yet somehow, people still manage to get around. I've been making regular use of public transportation here, which now includes a new subway system on top of the city's excellent sky trains. Getting around by bus is still the cheapest way to travel in the city however, with a ride across town costing the equivalent of about 25 cents. This one is your normal, non-air conditioned bus. Although sitting in a traffic jam breathing in car exhaust fumes for a few hours may not be the most pleasant feeling, it still remains the quintessential way to experience this chaotic megalopolis.
Most of the city's most famous attractions center around the old royal field, the same location where the King initiates the annual rice growing season. Its become the center of gravity for much of the city's history, both ancient and modern. A few decades ago, people here were killed en masse by the military during pro-democracy protests. In normal times, people come here to have a picnic, fly kites, do some sight-seeing, or just relax and doze-off in the shade of the field's walking avenues. This old monk here has the right idea.
Arguably the crown jewel of the city's history – or for that matter the nation's history – is the famous Temple of the Emerald Buddha and Grand Palace, which is not so much one building but a series of structures and stupas/chedi just east of the royal field. Its pretty impressive and one could easily spend half day wandering around here.
A stone's throw away is Wat Pho, which has the city's largest reclining Buddha. In these old religious compounds, taking photos inside the temples themselves are restricted, but you can take as many pictures you want outside. The old Khmer-influenced, tiled stupas are very impressive.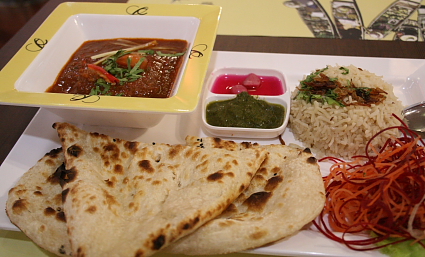 A new wave of food courts in some of the city's ritzy malls features cuisine from across Asia. Although Japanese is hands down the most popular foreign food to be found in Bangkok, one can easily find other types of cuisine. Being a fan of Indian food, I've been eating my fair share these past few days. This mutton curry and naan lunch set cost about 3 dollars.
Although hard to find in the states, arguably the country's most popular dish is som tam – a dish which originated from Laos which is made from raw papaya slices. This particular style of som tam is "Thai-style." You make it by mixing the raw papaya together with green beans, tomatoes, chilies, crab, peanuts, dried shrimp, fish sauce, a lime, and brown sugar with a mortar and pestle. It is extremely hot. This was about a dollar.
Contrary to what one may think, not everything here is uber cheap. Many fancy luxury items can easily be found a lot cheaper in the states. We went to Mahboonkrong, one of the city's well-known shopping centers, and looked around for some camera lenses for my SLR. This canon fisheye lens cost about $150 more than it would off of Amazon. I figure its because the market size here for nice lenses is still pretty small.
I took this photo from the balcony of a friend's condo facing the Chao Praya river. A combination of the sunset and smog make for one psychedelic sunset. The buildings in the background are unfinished casualties of the 1997 Asian financial crisis and were never finished. Arguably, it was over-lending and investment in projects like this in Bangkok which sparked one of the worst international crises in modern history.
My blood-lead level has probably quadrupled in the past few days so I need to get out of this insane city fast. Although finding a working computer with high-speed internet access is proving to be more difficult than I anticipated, I hope to be able to post some photos and commentary from upcountry later.