Good Thai Eats
Having just returned from the annual trip to Thailand, I wanted to post some of the better food-related memories to Lincolnite in hopes that it would cut through some of the chill of this January.
This year we spent several weeks in the south of the country, and had some nice local delicacies like cow tongue fried with peppers and onions. I'm not normally a big cow tongue sort of guy but I have to say that this was really very good.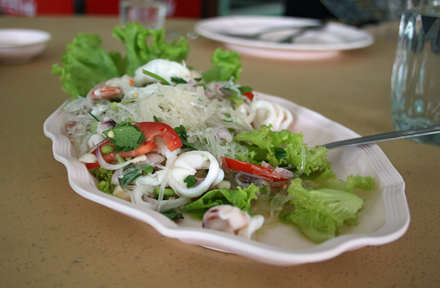 But the south is especially renown for its fresh seafood. This cold, glass noodle salad with squid and shrimp was especially tasty.
We also spent some time at a Six Senses resort in Samui island. Six Senses is an international chain which bills itself as a "six star" resort which competes with other top class international hotel and resort chains like the Four Seasons. This place was amazing. Regularly priced-bungalows along the Andaman Sea ranged from $600 to $2000 a night!
Luckily for us, we have a friend in upper-level management who comped us a very nice lunch at one of their beach-side restaurants. To start things off, a cool glass of fresh-squeezed, mixed fruit juice.
Appetizers included fried, Chinese-style shrimp dumplings, and fried shrimp rolls served with fresh-cut relish.
A mild, sour soup with seafood was one of the main entrees.
As was some delicately fried fish with scallions, chilies, garlic, and cilantro in a light chili sauce.



We even had the privilege of meeting the resort's executive chef during our meal. This man is one of Thailand's premier chefs. What a treat it was to visit with him!
Hey what's up dude? One of the stranger things to see on the island was a mummified monk at one of the local temples, encased in glass. For some reason, he wears a pretty nice pair of Ray-Bans.
We then spent a short time with some relatives in Nakorn Srithammarat province, also in the south. We went to a very sleepy but hospitable part of the province with some nice beach front, minus tourist infrastructure. All the brown fragments on the ground are ripened-coconut shells, which fall from the abundance of coconut trees right along the beach.
We had a nice picnic along the sea with duck noodles, fried fish, curry, and steamed shells with some chili and garlic sauce.
Younger coconuts can be picked from the trees and split for some refreshing milk.
This one had some nice, ripe coconut meat which made for a great dessert.
Then it was on to mighty Bangkok for the rest of the trip. I have to tell you, it's a real mind job to come back to Bangkok after spending a good few weeks in the beautiful south. I took this photo on a walk bridge at New Phetburi Road near dusk, in the center of the city, right before one of the endless waves of traffic roared down the street.
We spent a day at Chatuchak Weekend Market, which was packed to the brim as usual.
The variety of things one can buy at the market are incredible. This includes rather expensive items like crystal figurines and jewelry.
Of course, an abundance of food vendors can also be found throughout the market. This woman was selling fried seafood with chips, pan-fried mussels with flour batter, and bird eggs.
Fresh strawberry juice with ice is a must for a hot day.
Actually, freshly-made fruit juice of any type is widely available throughout the city.
We also went to a very nice floating market a short trip south of Bangkok. I had not been to this particular market before and really enjoyed it.
This woman was selling grilled squid on a stick with hot sauce which was very tasty.
We also found a vendor that was deep-frying ice cream as well.
They would then sell the ice cream in homemade clay bowls, with any variety of candy, chocolate, or fruit jam toppings. This was another great dessert for a hot day!
Of course, Bangkok is a truly global food city. It's an absolute must to try some of the Japanese food which is widely available anywhere one goes.
Another one of the really memorable meals we had was at a very nice Pakistani restaurant hidden away in the side streets of Bangkok's financial district. The chicken tandoori was definitely the best I have ever had, anywhere.
We also had grilled chicken kabobs, chicken curry, mutton curry, and plenty of rice and naan. We left the restaurant stuffed.
See you next year City of Angels!