Food, Etc.: Bangkok to Burma 2010
Having spent an inordinate amount of time in airports or on airplanes in the past 48 hours, I have had plenty of time to edit some photos of a recent trip overseas to Thailand and Burma. This is a collection of various images that hopefully capture some of the sights and experiences of the trip. Knowing that there are a number of chowhounds who regularly frequent Lincolnite, I included a lot of food related pictures in this post.
Satay could be found everywhere.
And a close up…
Even more widely consumed than satay, grilled or fried meatballs on a stick are on every city block.
But one can also find barbecued chicken on a stick as well. This one is for Chris.
And another perspective…
These birds probably had better days.
Chinese-style roasted ducks with crispy skin.
In a nifty trip to remote Mae Hong Son province near the border with Burma, we spent a few days in lovely Pai. It was the first time for me to visit the province and I enjoyed it immensely. There was a natural hot spring that was so hot one could literally boil eggs in the water…
And eat them!
Also in Mae Hong Son, we stopped briefly at Ban Rak Thai – a Chinese village on the border with Burma. This village was settled by KMT soldiers who had used the area as a base to fight the communist Chinese during the cold war (and who later went on to become international heroin traffickers, basically).
There were a lot of these Chinese villages in the area.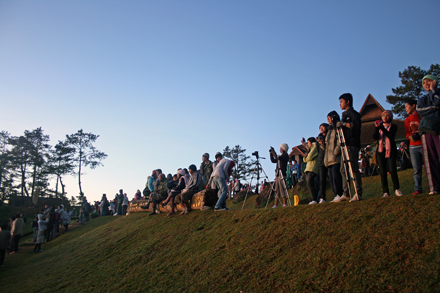 At dawn, hundreds of people flock to the mountainsides to catch the sunrise.
Also in Mae Hong Son, we spent a short time in the mountains at a reservoir called Pang Uong. The view was stunning, with "Stephen King-esque" mist on the lake at dawn.
The place was packed with tourists, especially as it was the winter high season during the New Year. Sick of its urban blight and legendary traffic jams and pollution, many Bangkokians seem obsessed with camping, and flock to places like Pang Uong for vacation.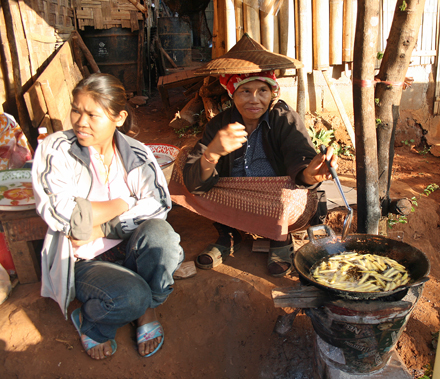 These folks in Pang Uong were frying locally grown mountain valley potatoes the old fashioned way.
I'd say they were a step above the fries at McDonald's.
Also in the north, we stopped by Wat Rong Khun, the famous "White Temple" in Chiang Rai on the way to Burma.
The temple draws tons of tourists, and for good reason. The design and overall atmosphere were stunning.
A local eatery in downtown Chiang Rai where we ate lunch.
We had a classic Naam Prik set of vegetables and fried fish with hot chili sauce.
The Thai/Burmese border was crammed with people selling all sorts of things. Locals cross the border on a daily basis to hawk goods on the opposite side.
As I noted in an earlier post, the Burmese food we had was quite good. A vegetarian herbal soup was the centerpiece of a rather large meal we had halfway on the road to Keng Tung.
We encountered a lot of kids in the rural villages on the way to or surrounding Keng Tung as well.
This boy a bit older.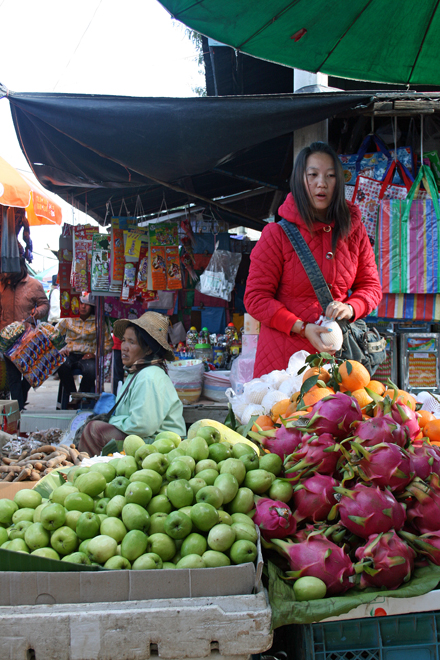 Fresh fruits and vegetables were abundant at the Keng Tung market.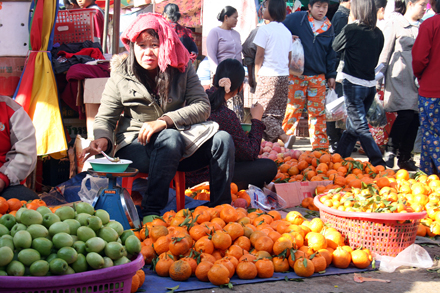 The "mandarin" oranges were particularly easy to find and very tasty.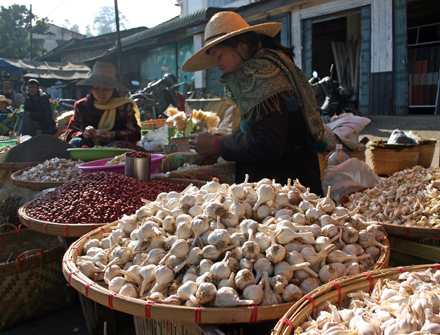 As was tons of garlic.
There were plenty of smaller markets around town as well.
Feel like 4 people in a car is too much? Try 4 people on a motorbike, a common sight throughout the region.
This was the front of one of the roadside eateries we stopped at in Burma.
And the back.
In the even smaller town of Doi Mwe, the only means of transportation seemed to be motorbikes and bicycles.
We picnicked at a quiet area with a temple at the top of a hill in Doi Mwe.
Back in Thailand, we spotted a well-known Thai pop singer ("Punch") feeding sheep at a resort near Bangkok during a photoshoot.
More food. This young woman is preparing sausages for sale.
Of course, fish or seafood snacks were just as plentiful as the meat-based ones. This woman was selling noodles with fish balls.
Deep fried sardines. Mmmm.
And bigger pieces of fried fish.
And sun-dried fish.
This woman was preparing mussels fried with bean sprouts, eggs, flour, onions, and a brown sauce.
Of course, we had plenty of common one-plate meals throughout our trip, like chicken biryani.
Or the ubiquitous fried noodles.
One of my favorite simple dishes is Khao Soi – a popular curry noodle soup with origins in China and Burma. This Bangkok vendor owns a well-known shop near one of the backpacker areas in town.
While in Burma, we actually had a local version from which the Thai derivative was spawned.
Chicken dumplings and egg noodles.
One does not live on protein and carbohydrates alone. Bananas are easily had anywhere, and anyway - like roasted on a stick.
Or for other fresh fruit: Strawberries.
Dried fruits are a bit of a luxury dessert and they are quite tasty.
Of course, Bangkok wouldn't be a premier food city if one couldn't find the best of Asian cuisine from other nations as well. Japanese food can be found in abundance. The sushi was excellent.
And of course: Indian food. Presented: Mutton and fish curries, yellow dahl, and warm naan.
I personally find Malay food to be just as good as Thai, but WAY under-appreciated and not nearly as popular as Thai cuisine (at least here in the USA). We found seafood laksa – a noodle soup with curry base - at a few places in Bangkok.
I also had the Malay national dish - nasi lemak - as well: Coconut-milk cooked rice with chicken, peanuts, and anchovies with a hot sauce.
For dessert? Have some popcorn – made in a truly old school fashion.
Or some egg yolk-based desserts.
A local version of "Marzipan" is also readily available – sugar and bean flour shaped candies.
Its all good washed down with a coke.
Some of the Bangkok skywalks have a somewhat sci-fi like aura about them.
During the day, they are cluttered with people buying and selling merchandise.
During the night, they are also cluttered with people buying and selling merchandise.
We stopped by Pahurat – otherwise known as Bangkok's "Little India" – on a day trip through the city. The old colorful market has been demolished to make way for a new development, but the large Sikh temple in the neighborhood remains.
Here's a temple of another sort – the Madrid: a famous Bangkok hangout spot for the CIA during the Vietnam War.
Among other well-known spots for expatriates in the city, I met an old friend for lunch at the historic Foreign Correspondents Club of Thailand. I expected BBC World News on the club's televisions, but instead found them all playing Al-Jazeera English.
No stop in Bangkok would be complete without a visit to the Bangkok Art and Culture Center, one of my favorite new establishments in town, and an excellent place to just chill out and enjoy the cityscape in the background.
One of the Center's display's featured the "Journey of Kumjing" – a paper mache doll exhibition meant to depict and spread awareness about the plight of Burmese migrant workers abroad.
All in all, a great visit to one of the greatest cities on the planet.