...You Filthy Animal
Sometimes I'm entertained by the smallest things.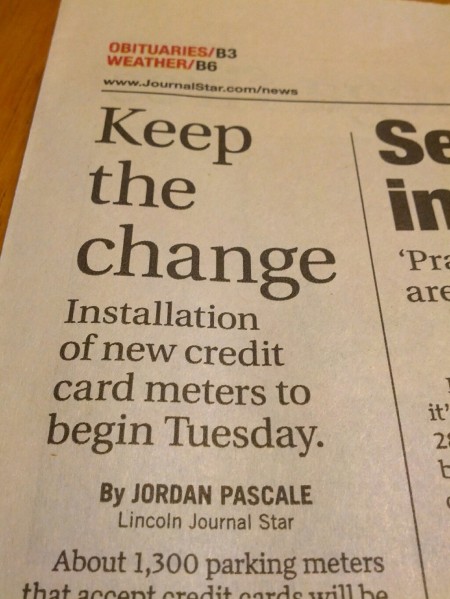 Yesterday, Jordan Pascale tweeted that he was working on a story about Lincoln's new parking meters. Knowing that the new meters offer a credit card payment option, I asked if Pascale was going to headline his article "Keep The Change". Sure enough, he went for it. I assume my royalty check is in the mail.
The story is actually a bit bigger than that. Along with the new parking meters come new parking fees. The hourly rate doubles—from $0.50 to $1.00. Although a 100% increase in any fee is generally a bad thing, in this case the increase is long overdue. Parking meter rates haven't increased in 18 years, yet demand for on-street parking in Downtown Lincoln is higher than ever. Simple economics suggests it's worth the City's while to charge more. In addition, the first hour is free in City-owned parking garages. Downtown offers more and better parking options—not to mention reasons to bother going there in the first place—than ever before.
The new meters can also have their time limits adjusted on the fly. That means that, in theory at least, the meters could offer longer parking options on Husker football game days or for other special events. That's all well and good, although it makes me wonder why the rate can't be adjusted as well. $2.50 per hour parking on Husker game days, particularly north of O Street, sounds perfectly reasonable to me.
Baby steps, I suppose. For now, simply adding a plastic payment option is a great step.
Oh, and for those of you who need an explanation of this post's title: