Where in Lincoln is this?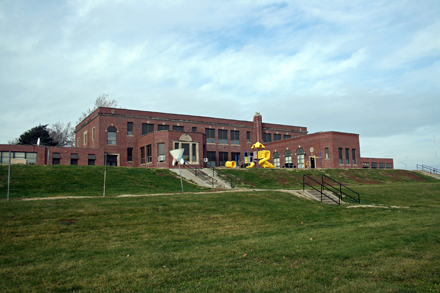 Good going Chris! It was indeed the back of the former Hawthorne Elementary School at 300 S. 48th St. I am beginning to think that you have a photographic memory!
There are now four Lincolnites who have correctly guessed the Where in Lincoln photo twice in a week. Those resourceful maniacs include Tiki-master Chris (i.e. West A Dad), the Nikkidemas, Avabee, and Mike. I am now changing the rules for these 2-time winners.
From now on, if you have already been a 2-time winner, you now need to win 3-times in a row in order to claim your prize. More difficult? Yes. However, the prize is bigger too: a $50 gift certificate to a local eatery or merchant. For everyone else, the old 2 in a row rule still applies to earn a pogocard.