Where in Lincoln is this?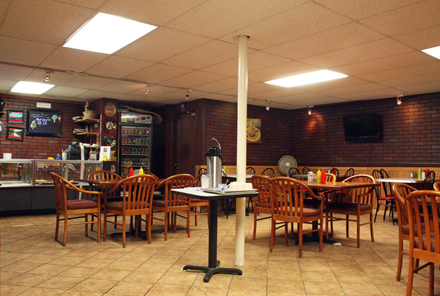 Sadly, no one correctly identified this location. It was Sinbad's Restaurant on 27th St.
A lot of people already know and cherish Sinbad's as one of Lincoln's hole in the wall culinary jewels. They offer excellent Iraqi food at great prices. Fans of Sinbad's already know that the portions are ginormous.
A small order of the marinated beef tekka kabobs came with a generous helping of rice, a small side salad, a modestly sized bowl of soup (we had a choice of spinach, lentil and bean, and ordered the lentil soup), and two diamond shaped pieces of fresh Iraqi bread with creamy garlic sauce. This was enough for 2 people for dinner, AND lunch the next day. Note: This was the small sized order! The damage? $10.95.
The food at Sinbad's is excellent. I won't dwell on how tasty each of the individual dishes were when we last went there. Suffice to say, you need to get out there and try it yourself if you haven't yet. If you like Middle Eastern food, then run, do not walk, to Sinbad's.