The LJS Paywall in Action
The LJS paywall that I brought up yesterday is now in effect. What does it look like? Let's check it out.
After browsing around the site for a bit I first encountered this modal window: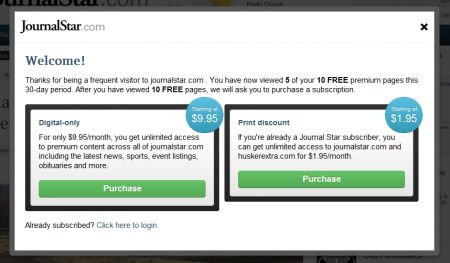 (A modal window, for those of you who aren't familiar with the term, is a small window within your main browser window that blocks user interaction with the content behind it.)
There's nothing particularly surprising about this window. It's a friendly reminder that I've viewed 5 of my 10 free "premium" (cough) pages for a given 30-day period. Simple enough.
After viewing some more articles I came across this modal window: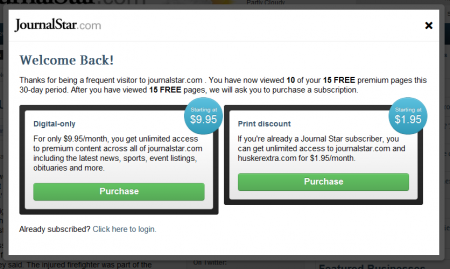 Er ... what? I thought I only got 10 free pages? I assume this is a launch-day glitch of some sort. I guess I have to view a few more articles. Fine ... Ahh! Finally:
So there you have it, the LJS paywall in action. If you click "No Thanks" you are returned to the site homepage. Otherwise you can sign in or purchase access. Let's purchase access, shall we?
I already have a journalstar.com account, so first I logged in using my email address and password. Since I'm a subscriber to the print edition, I was then asked for my phone number and zip code to associate my online account with my delivery account. Next I was given the option of a $1.95 per month payment, or $16.95 annually. I opted for the annual plan since it saves me about 25%. Finally I entered my credit card and billing information, and poof, I have a year's worth of online access.
To verify that my account has full access to the website I pulled up a couple other web browsers and logged in to my account in each. No more paywall in any browser. Easy enough. The down side is that I have to log in on all of my various devices (phones, Kindle, etc). Annoying, but I'll live.
So just how much of a "wall" is this paywall? It turns out it's about as secure as the Canadian border. I'm not going to come right out and give you the tools to circumvent it—hint: it can be done with a single line of javascript stored in a bookmarklet—but I will describe the basic technique in use. My point isn't to make a bunch of rogue hackers out of all of you. Rather, I think the methods employed by the Journal Star shed a little light on how they've decided to balance ease-of-access for users with their ability to protect their content.
As I mentioned above, the only thing blocking your access to the content is a modal window. The content you seek is right there underneath the modal window. All that's happening is that a bit of javascript on the page determines that you're over your free article limit so it applies a "window shade" element (the dark gray translucent layer) over the entire page. Then it renders the modal window on top of that. Since the determination of your permission to view the page happens after the content is sent to you by the server, blocking or removing the modal window and window shade is all one would need to do to circumvent the paywall. It's trivially avoidable by either (a) turning off javascript in your browser, or (b) using your browser's web inspector (or a 3rd party tool like Firebug) to remove the blocking elements. Most of you have no idea what I just said, and that's what the Journal Star is banking on.
It also turns out that only a single browser cookie stands between the user and the content. Change the value of the cookie (or delete it) and you're good to go. Again, if you know what to look for this is beyond trivial to circumvent. Most Journal Star customers don't so the paywall ultimately works.
The balance here is reasonable. The vast majority of LJS readers will respect the paywall, either paying to get behind it or dropping the site as a regular resource. A few hooligans will figure out what took me all of 30 seconds to discover and they'll never have to pay. The LJS could take greater steps to make avoiding the paywall more difficult or even impossible, but at the same time they would risk making site access less convenient for the 98% of users who just want to read the latest Cindy Lange-Kubick column. That risk isn't worth the reward.
There you have it, folks. The LJS paywall we've long known would arrive finally has. A new era in local media has begun.