Paul's BBQ is Now Open
As it turns out, Inna's Pirogi wasn't the only new, local restaurant to open on Tuesday. Paul's BBQ opened on Pioneers Boulevard (between 47th and 48th Streets) the same day. The Missus and I grabbed dinner there tonight sort of by chance, since we found ourselves without any food in the kitchen. The restaurant gives off a definite small town vibe—it reminds me a lot of a place called Mick's that used to be in downtown Firth. The interior features around ten tables with four chairs each. Patrons order at the counter, and your food is brought out to you a few minutes later. The menu is small, but just what you'd expect: chicken, ribs, pork, and brisket are the major entrees, and the sides include fries, beans, and cole slaw. Come to think of it, the menu at Paul's BBQ is a lot like the menu at many of the Ribfest joints.
Paul's needs some time to work out a few kinks—they were already out of several menu items due to heavier-than-expected business in their first few days—but I think once they do, they'll find themselves welcomed warmly to the College View neighborhood.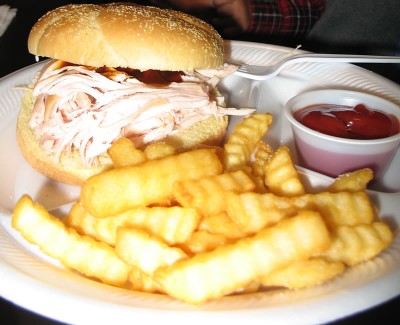 (Sorry for the crummy photo!)