Danger, Will Robinson
Well, I guess I won't be getting my news from the Journal Star this morning…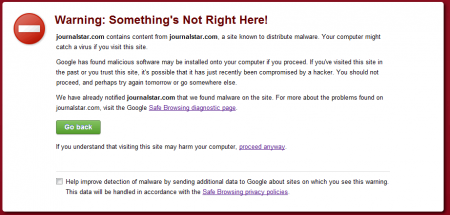 According to Google's "safe browsing" report, the ol' LJS suffers from "38 exploits and 2 trojans":
One possible scenario is that some third-party software they use has been compromised—an ad delivered from their ad network, perhaps. Lincolnite was actually flagged a few years ago because my web host was hacked via a Wordpress installation on a separate account that shared the same server as me. That was annoying. I can't remember how long it took me to get the warning removed, but I do remember it was longer than I would've liked.
Whatever's going on with JournalStar.com, I recommend you stay away for now unless you know what you're getting into. Your computer probably won't get infected with anything ... but it might. I'll post updates below as I have them.
UPDATE 11:30AM: The alert is gone now.