Latest Blog Posts
I subscribe to Crime Mapping so I receive the occasional email describing any reported crimes in my neighborhood. It's a nifty little service for keeping tabs on the neighborhood. For example, over the past couple days there have been several thefts out of unlocked vehicles not far from my house. It's nice to know that sort of thing.
But yesterday the thieves went too far. In my inbox this morning was this report:
TAKEN FROM VEHICLE PARKED IN DRIVEWAY AXE SPRAY COLOGNE
I can't figure out which is more amusing: that somebody would steal a can of Axe, or that somebody would call the police to report it stolen.
What did I do this weekend, you ask? Oh, nothing much.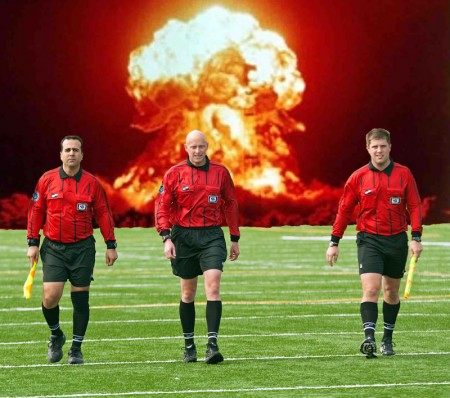 Good ol' Mr. T took some photos at the Grand Island vs. Lincoln Southeast boys soccer match on Saturday for the Heartland Athletic Conference championship. (Grand Island ended up winning 1-0.) He got several great shots of my ugly mug, including a few shots of the full referee crew walking off the field at halftime. I couldn't help but tweak the photo just a bit.
Mr. T is currently showing some photos in the Rotunda Gallery at the UNL Student Union. Stop in and have a look at his work. The exhibition ends on Friday.
EDIT: I couldn't help myself. Cool guys don't run from a volcanic eruption:
Cool guys swim with the fishes: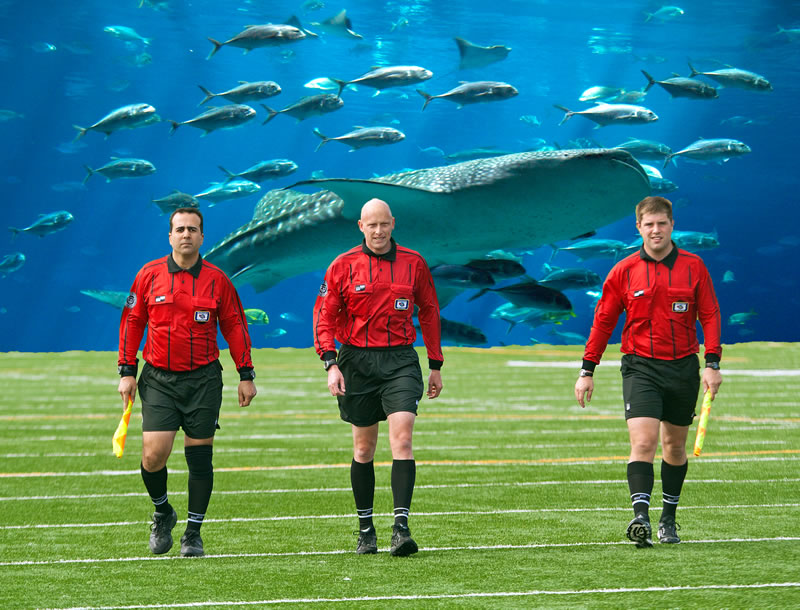 Cool guys hang out with Leo:
Cool guys work on the holidays: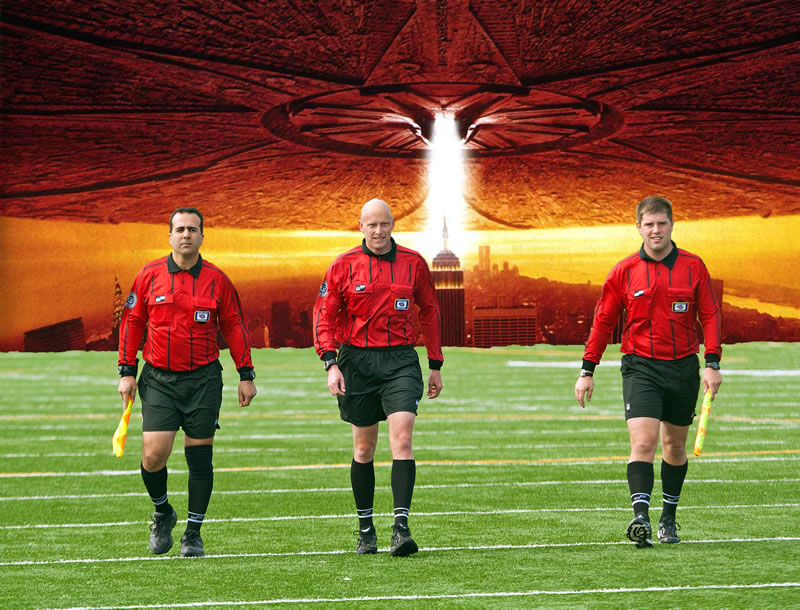 Cool guys ain't afraid of no ghost: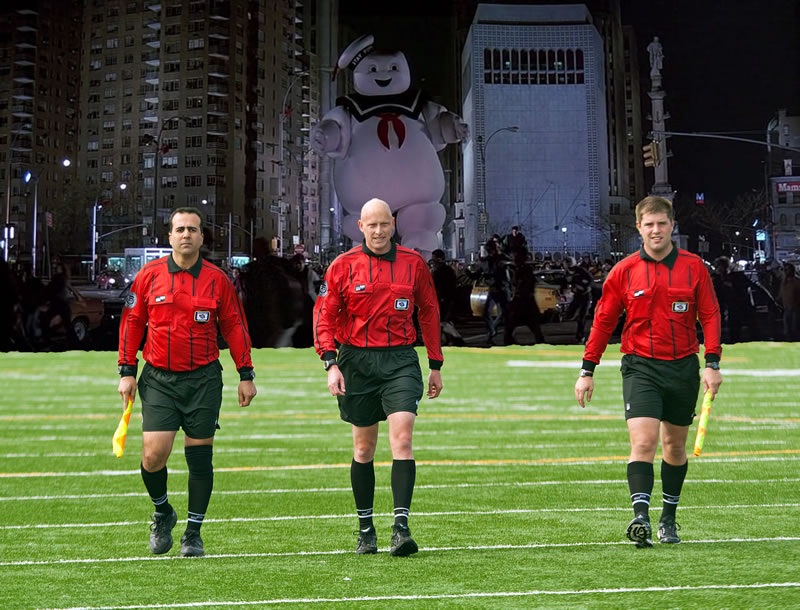 Cool guys ain't afraid of no ghost [alt]: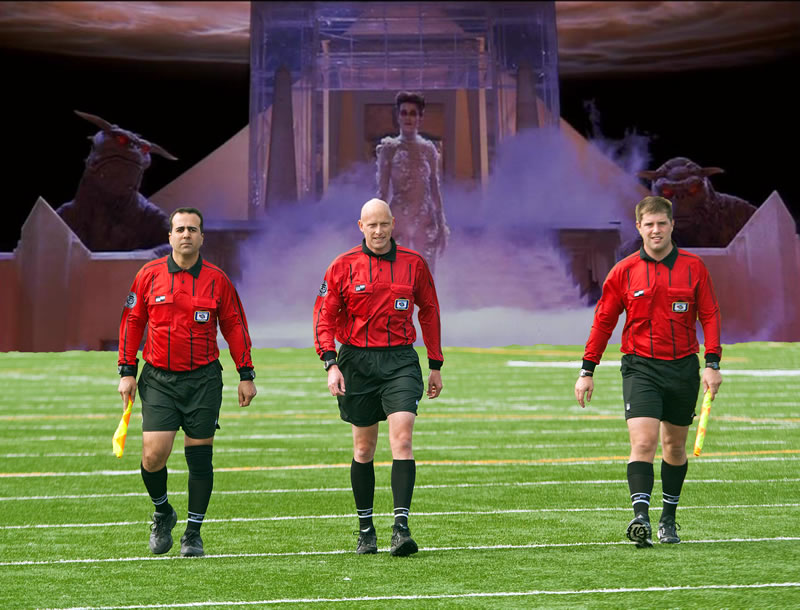 Cool guys in space:
Cool guys are closer than they appear: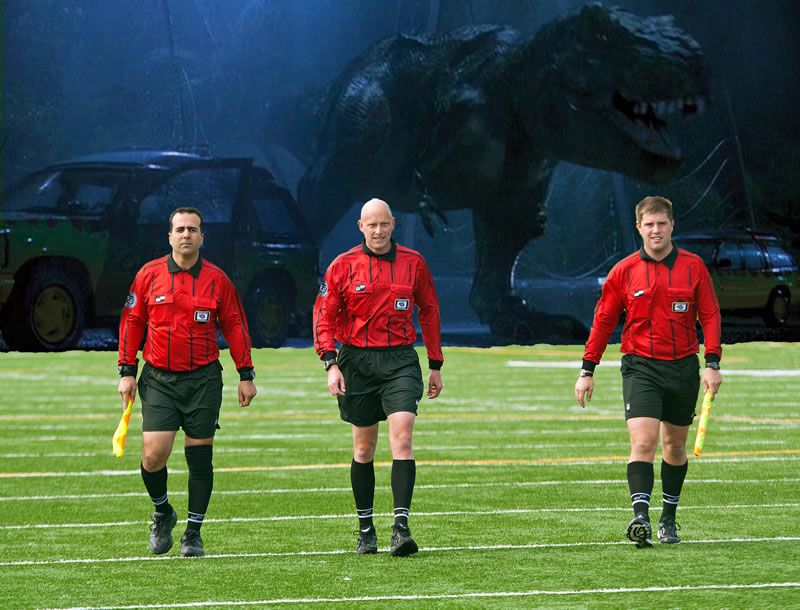 Cool guys battle the empire:
Cool guys walk to Mordor:
Cool guys travel the world:
Cool guys hold hands when crossing the street:
EDIT: Solved!
Apparently all those "feather signs" you've been seeing around town are illegal. They're illegal because they aren't permanent, and they are "animated".
I'm not sure how any of that is a problem. Lincoln is positively filled with impermanent advertisements and decorations, many of which are "animated" in one form or another. It's of course possible for such ads to be dangerous or inappropriate in one way or another, but I can't for the life of me figure out how those negative qualities might be relevant to feather signs. Perhaps they have a habit of unexpectedly tickling passers-by.
For those of you who want to do further research, check out the Lincoln Sign Code [PDF] and zoning regulations for signs [PDF]. Unfortunately documents like these don't include the reasons behind the restrictions they describe. As a result, we are left to think many of them are silly until somebody convinces us otherwise. For example, I can't for the life of me figure out why feather signs are worse than, say, a giant inflatable gorilla or even the standard fluttering colorful triangle flags on a string.
Who's got a good argument against these things?
ClockTower Shopping Center (70th and A) continues to fill up. This morning while taking Daisy the Wonder Schnoodle to Clock Tower Animal Clinic—she has been having back troubles—I noticed that Just Pop'd Popcorn is due to open in May. Just Pop'd is apparently from Papillion, and as far as I can tell this new store will be their second location. Looks like Colby Ridge has some fresh competition.
I stopped in at Union Bank on 48th and Calvert this morning to deposit some checks. While I was getting my things in order I overheard a teller instructing a customer on where to go to get ... well, whatever it was he was after. The teller told the man "It's in the old Post Office on Calvert".
Immediately I perked up. Although I instantly knew the building, only longtime Lincolnites would have a chance at knowing where the teller was talking about. That building hadn't been a Post Office in ... what, 25 years? I looked up at the teller. He probably wasn't even born when it was a Post Office! After the customer went on his way—with a Union Bank employee helpfully at his side to get him to the right place—I asked the teller how a young pup like him could possibly remember that Post Office. He didn't. But all the old-timers in the bank refer to the building that way, so he picked up on it.
There are many landmarks like that throughout Lincoln. Kool Krest and Miller & Paine are two noteworthy ones that I use often. I love that there's enough consistency in Lincoln that we can have those collective memories. And I get a kick out of the fact that even people who weren't even around at the time—The Missus, to name one—use those long-gone landmarks as references.
After more than 35 years, Howard Howser has retired and given up ownership of Howard's Pantry in Van Dorn Plaza on South 48th Street. Fortunately (or not, depending on your perspective), few major changes are planned. Oh yeah, except for one little thing: they're going to sell booze. Maybe I'm misjudging the restaurant's core audience, but they just don't seem like the types to order Bud Light with their patty melts. But what do I know?
My first trips to The Pantry were just a few years after Howard's arrival. My Grandma Ethel—yep, I had a Grandma Ethel—would sometimes take us there for lunch when she was in town to shop at Knights or ... well, wherever it was that she shopped 30+ years ago. (I personally preferred Bishop Buffet, but I got mashed potatoes and gravy either way so I was happy.) My most recent visit was a few years ago. Very little had changed.
Whenever a big change like this happens I always wonder what comparable thing we'll be talking about decades down the road. In this case, who's the next Howard? I guess we'll find out soon enough.
Like a lot of folks, I tend to be a pretty critical consumer of auto repair shops. Although I can say that my experiences in Lincoln have been largely positive, there have been a handful of very disappointing episodes I have had with several repair shops here in town. So when I do have a positive experience, I like to spread the word to other auto owners.
The other day I took my car into the Auto Connection on 20th and P St. to repair and recharge my AC unit. I'm definitely glad I took it there.
*exactly
EDIT: Solved!
Some Lincolnites may think that Lincoln's food truck scene is little more than a quirky gimmick that won't last. I think Saturday night's "food truck roundup" proved them wrong.
I don't have any way of knowing how many people showed up at the parking lot at 27th and N, but I do know that every parking spot was filled—and then some. In addition, the lines were long. Very long. Many people waited over 30 minutes for their food.
Business at Lincoln's food trucks is brisk, and Saturday night's event—which will be repeated every other Saturday—introduced many more people to their food. Even those who did nothing more than drive by the intersection saw how popular the trucks are. That can only do good things for Lincoln's dining scene.
Now then, how about those pesky local ordinances that prevent the food trucks from operating on public streets? The last I heard, more or less zero progress has been made. Whatever may or may not be happening behind the scenes, the City Council hasn't moved on the issue. On the one hand that's frustrating. Let's help out these local business owners! On the other, what's the rush? The trucks are clearly doing pretty well for themselves despite being relegated to private parking lots. Perhaps their present situation isn't so bad after all.
Whatever their legal future, Lincoln's food trucks have clearly started something, and thank goodness for that. They've introduced Lincolnites to a new way to run a restaurant, and as a result Lincoln has found itself introduced to a variety of completely new foods. I can't wait to see what else is coming.