Friday Night Assembly
Assembled: One baby crib.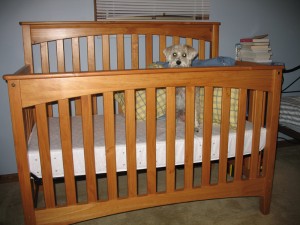 For those of you who are interested the crib is a convertible "Infinity Crib" from Baby's Dream Furniture, Inc. out of Buena Vista, Georgia. We bought it from Kids' Stuff on North 27th Street. It is convertible, which means it converts from a crib, to a toddler bed, to a double bed. Assembly was a piece of cake: twenty bolts and I was done. I only found two small problems with the product: the top rail of the front frame is just a little loose (it just needs a touch of glue), and the instructions say in large letters "PHILLIPS HEAD SCREWDRIVER IS REQUIRED", even though the only tools needed are the included allen wrench and hex wrench. Tiny complaints, both. I think we got a pretty decent crib for not much money.
Now that I'm in a handy man mood I'm half tempted to install a couple ceiling fans we've had sitting around for a while. Too bad I don't know anything about electrical wiring. Guess I'll have to give my dad a call tomorrow and see if he wants to tackle that project with me.